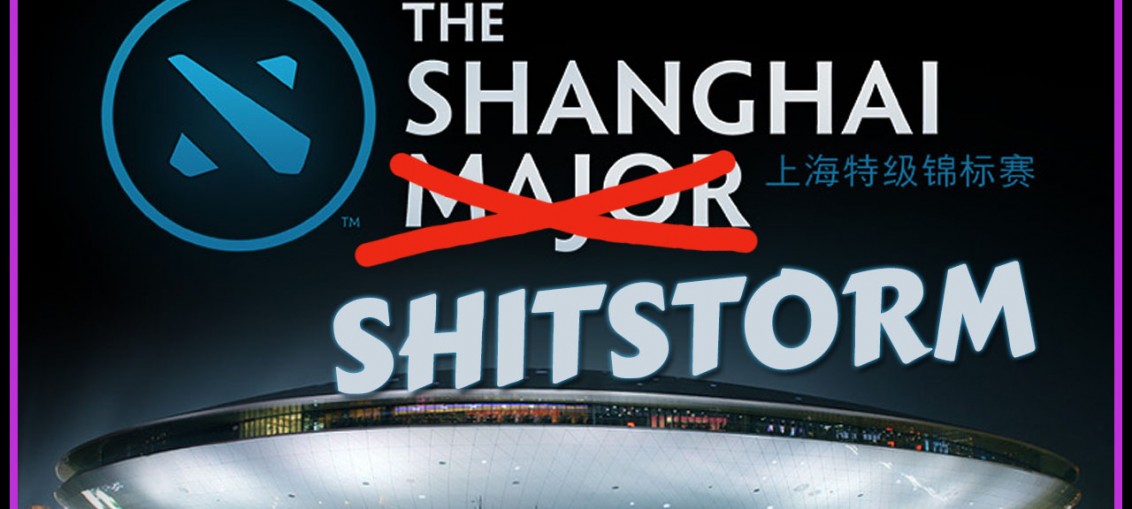 The Dota 2 Shanghai Major is the worst major Dota 2 LAN event to have been held and quite possibly one of the worst ever in eSports history, this was Twitch Drama on a whole other level. Below is a quick recap of the major failures that occurred:
And only 2 days into the event the main host James "2GD" Harding was fired, the reason? A few crass jokes which you can view in the video below which shows why James "2GD" Harding was fired.
Now if you still haven't had enough of the Shanghai Shitshow / Shitstorm you won't be surprised to hear that even after the event finished the show still went on!
Организаторы решили никому не говоря ночью разобрать практис румы и выкинуть все личные вещи игроков в коридор. Это полный пиздец!

— Georgy Faleev (@vp_drAmer) March 7, 2016
VP.Dramer: "Organaizers cleared out practice rooms at night without telling a single word to anybody, they just threw our personal stuff to the hall. That's totally fucked up!"
https://www.instagram.com/p/BCpDDUqEdP_/ – Secret's room
https://www.instagram.com/p/BCpFagMEdCh/ – "The practice room floor corridor right now."
https://www.instagram.com/p/BCpNqA-EdNA/ – "The war zone"
Secret twitter guy: "This is what all the teams have woken up to this morning. These are the practice rooms. What remains is hopefully all our gear, we had laptops in this room and a ton of other personal stuff. No heads up about this was given to the teams. 👍"
"We're currently trying to locate a bunch of our gear. We just saved 1437's laptop charger which was bundled into a box with 100s of cables."
"Teams are shouting at the staff here as the majority of everyone's gear has been either packed away, lost or stolen."
Goodbye keyboard and mouse 🙂 one day I'll return to China pubs to play versus my own peripherals. #fullcircle#headsupforthisplzXd

— Johan Sundstein (@OG_BDN0tail) March 7, 2016
OG.BGN0tail: "Goodbye keyboard and mouse 🙂 one day I'll return to China pubs to play versus my own peripherals. #fullcircle #headsupforthisplzXd"
There was miscommunication btwn PW and hotel. PW is willing to pay all costs of missing gear/items. However, poor Rotk's car keys are mia..

— MissHoneybadger (@the_evany) March 7, 2016
Evany, OG manager: "There was miscommunication btwn PW and hotel. PW is willing to pay all costs of missing gear/items. However, poor Rotk's car keys are mia.." (It's freaking Maserati)
For a full recap of the events leading up to the Shanghai major failure and the twitch drama that occurred check out the highlights in the video below: